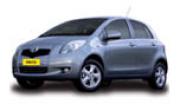 Late Model
5 Person
Auto
Petrol
Air Conditioning
CD/Radio
Rate includes unlimited mileage, tax, location fee, admn recovery, vehicle registration recovery. One way rental confirmed. Credit card surcharge of 1.5% will apply to qualifying rentals. Bond may apply-see qual and req-forms of payment.
Pick Up Date: Monday, February 04, 2013, 12:00 PM, Adelaide Airport.
Drop Off Date: Thursday, February 07, 2013, 11:30 PM, Melbourne Domestic Airport.

For Slovakia residents only.